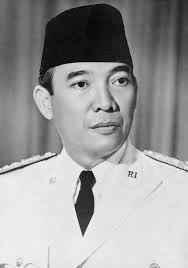 Sukarno
was the first president of
Indonesia
, he is a Indonesian Independence Proclaimers, he was born in
Surabaya
,
East Java
, 6 Juni 1901, he plays a big role to liberate Indonesia from Dutch Invasion, also, he's the one who proposed a concept of
Pancasila
.
Sukarno was born in Indonesia, in East Java (which was formally, known by back then, the Dutch East Indies) on June 6, 1901. He was born with a Javanese father and a Balinese mother, with two backgrounds. Due to his intelligence, Sukarno knowledge of the language, Dutch, made it possible for him to Europeesche Lagere School (Dutch-primary school) in 1912 in Mojokerto. He attended several schools (Sukarno/Schools) and along the way, he met Tjokroaminoto, a nationalist and founder of Sarekat Islam, the owner of the boarding house where he lived. He also married the
He married three wives, the first one was Tjokroaminoto's daughter, Siti Oetari. Then, he became romantically in love with Inggit Garnasih, so he then divorced with Siti and married Inggit, then divorced with Inggit and married Fatmawati.
Revolutionary and Independence Leader
Edit
Sukarno became chairman of the Nationalist Study Club in Bandung in 1912. He also was the founder of the Indonesian Nationalist Party (PNI) in 1927 and banned the PKI as a result of Maduin revolt in 1926.
Sukarno's task of unifying and organizing the Nationals Group was much more easier. His ability to phrase his political goals in a language the masses could understand soon made him a hero. His fame grew widely, especially in his 1930 trial, where he was accused by the Dutch Indies of treason, and thus, was sent to 4 years in prison. This is when he made his speech, Indonesia Mengguget, which is considered on of the best messages he has ever made in his career.
Shortly after his release, he got arrested once again, and exiled to Ende on the island of Flores in February 1934. Four years later, he and his family (Wikipedia cite) was moved to Bencoolen in Sumatra. Sukarno was released when the Japanese took over Indonesia in March 1942. The Japanese made him leader under there organizations for his strong views, and in 1945, he headed the very important preparatory Committee for Indonesian Independence.
See also
Edit
http://www.encyclopedia.com/topic/Sukarno.aspx
https://en.wikipedia.org/wiki/Sukarno http://www.indonesia-digest.net/3001sukarno.htm
Community content is available under
CC-BY-SA
unless otherwise noted.